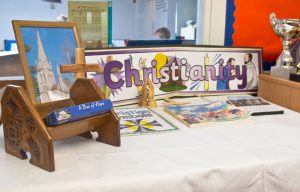 Bomere Heath is a church school committed to the spiritual, moral, educational and social development of our children. We do this within a framework of Christian belief and values and in an atmosphere of care and respect.
Our church is Holy Trinity at Leaton (a nearby village) and sits within the Diocese of Lichfield.
Rev Mary-Lou Toop and other members of the church regularly lead acts of worship in school through Open the Book. All children attend a service at the church to celebrate Harvest Festival. Each year we donate a considerable amount of produce which is taken to Shrewsbury Food Bank.
Each year the Church gives all children a palm cross as a focus for worship and learning about Jesus.