Our Values and Ethos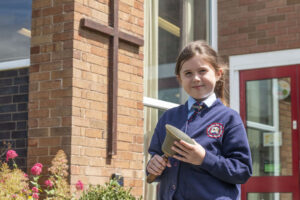 'With God all things are possible' Matthew 19:26
Our school nurtures all pupils and those in our school community to flourish as individuals; educationally, spiritually and morally, promoting Christian values through the experience we offer to all. Our core Christian values are Hope, Love and Respect
Our core Christian values on which we base our curriculum and expectations are:
Love, Hope and Respect.
We also learn about trust, forgiveness, tolerance, friendship, wisdom and perseverance to supplement these core values.
We aim to provide a school that is a relaxed, caring, safe environment in which children feel secure and valued, where we can nurture confidence, pride and responsibility alongside a balance of good discipline.
We want to ensure we prepare our pupils well for each stage of their education to create morally outstanding future citizens who will make valuable contributions to the world of tomorrow.
We are a neighbourhood village school welcoming all children whatever their parents' beliefs. As a Church of England school Christianity is emphasised, both by example and by teaching. A high priority is attached to strong links between the home, school and parish, with active involvement of the foundation governors and local clergy. The school aims to develop in the children a sympathetic understanding of the Christian faith, and an understanding of other major world faiths, cultures and customs.