Welcome to Haughmond Class
We are a class of Year 1 and 2 pupils. Our teachers are Mrs Gregory Tuesday to Friday and Mrs Johnson on a Monday.
Our teaching assistants are Miss Taundry, Mrs Alderson, Miss Buckley and Mrs Davies.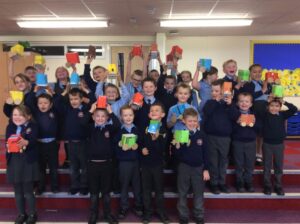 This term we are going to be learning about a very special, one-off topic – The Queen's Platinum Jubilee. This will include a focus on changes within living memory and significant individuals.
To find out more about the focus in our areas of learning this term, our topic map is available at the following link.
Class Rules and Weekly Timetable
In our class we learn about respecting others and our school environment.
We can earn Dojos for our behaviour and attitude to learning. The Dojo winner each week earns themselves a prize from the prize basket.
This term we have P.E. with Miss Ryan on a Thursday afternoon and on a Friday we will be going swimming in groups, either before or after half term.
Links to Online Resources
Curriculum Planning
Haughmond Voyages of Discovery
---